Interim Governor March 1671 – April 1672
Interim Governor August 1674 – May 1682
Interim Governor August 1684 – July 1685
Joseph West, an experienced British naval officer, led the voyage from England in August 1669. On the final leg, from Bermuda to South Carolina, he commanded the Carolina. As a proprietor's deputy and member of the Grand Council, West took a leading role in the colony; dying governor William Sayle named him to take the governorship, on an interim basis, upon Sayle's death. Joseph West thus became acting governor of Carolina in March 1671.

If there was no commissioned governor in the colony, the senior resident landgrave had the right to the position. When Sir John Yeamans, a landgrave, arrived from Barbados in the summer of 1671, he therefore claimed the governorship. However, West would not cede to Yeamans until orders arrived from England in April 1672.

Joseph West was made a landgrave in May 1674, and after John Yeamans died in office (August 1674), he held the governor's office for eight years. Although the proprietors replaced him with Joseph Morton in 1682, landgrave West again became interim governor in August 1684 when Sir Richard Kyrle died in office.

Joseph West did not claim the thousands of acres that were his right as a landgrave, but he obtained several profitable tracts in the colony. By 1677 he had come into possession of the proprietors' "plantation" on the Ashley River, and by grants in 1680, 1681, and 1682, he received 1,500 acres near the Cooper River, 130 acres on Charleston Neck, and Lot 28 in Charles Towne.

During West's tenure as interim governor from 1674 to 1682, the peninsula between the Ashley and Cooper rivers was transformed into the province's principal town. There were about thirty houses in the spring of 1680, when word was received from the Lords Proprietors that Oyster Point should become Charles Towne – the established port, the seat of government, and the meeting place of the Grand Council. By 1682, there were at least 100 buildings in the new town.

Joseph West suffered from malaria, and in the summer of 1685 he sought to recover his health in a cooler climate. Resigning his office, he traveled to Boston. He returned to Charleston the next year and sold his property - nearly 2,000 acres and a house in town. He left Carolina permanently in 1687, and died in New York in 1691. 

Upon governor Joseph West's resignation, in July 1685 South Carolina's Grand Council elected Robert Quary interim governor.

Bates, Susan Baldwin, and Harriott Cheves Leland, eds. Proprietary Records of South Carolina. Volume One: Abstracts of the Records of the Secretary of The Province, 1675-1695. Charleston: History Press, 2005.
Lesser, Charles H. "West, Joseph." Walter Edgar, ed. South Carolina Encyclopedia. University of South Carolina Press, 2006.
Smith, Henry A. M. "Joseph West, Landgrave and Governor." South Carolina Historical and Genealogical Magazine. Vol. 19. (1918).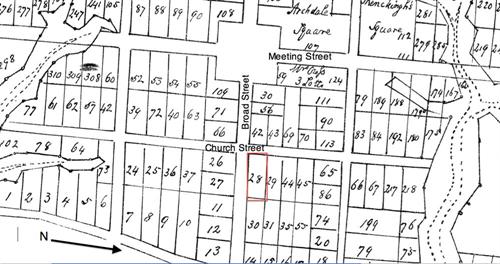 Henry A. M. Smith, "A Platt of Charles Town." South Carolina Historical Magazine, 1908 (copy in City Engineer's Plat Book, S. C. History Room, Charleston County Public Library)
In the summer of 1687, former governor Joseph West sold Town Lot Number 28, on which he had built a house.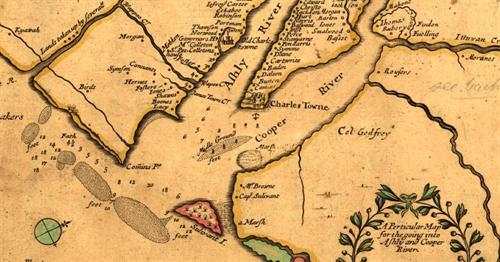 Joel Gascoyne, "A new map of the country of Carolina." Ca. 1682. American Memory, Library of Congress http://memory.loc.gov/
"Gov. House" was the proprietors' former plantation, a 200-acre tract belonging to Joseph West, who was governor when this map was produced.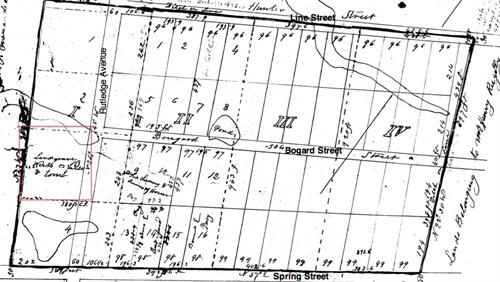 McCrady Plat Collection #4072 (microfilm, S. C. History Room, Charleston County Public Library)
A plat made in 1786 showed the ruins of a house and "Landgrave West Vault & Tomb" on the 130-acre tract sold by Joseph West in June 1687. West died in New York, where he was buried. Although his wife, Joanna, had not accompanied West to Carolina, historian H. A. M. Smith speculated that she came out later and "became the occupant of the tomb."