Acting Governor November 1737 – December 1743
Born in South Carolina in 1683, William Bull was the son of Stephen Bull, one of South Carolina's original colonists. Like his father, Bull was a successful planter, and served as a militia officer in the Tuscarora and Yamassee Indian Wars. He entered politics during the proprietary regime, and was appointed to the Grand Council in 1719. He was appointed lieutenant governor in June 1738, and held the post until his death.
As lieutenant governor, William Bull became acting governor when Thomas Broughton died in November 1737. He served until governor James Glen arrived in Charleston in December 1743.
William Bull's term as acting governor was notable for his brisk suppression of the Stono River Slave Rebellion (September 1739), and the resulting legislation that restricted the activities of free blacks as well as slaves.
William Bull inherited Ashley Hall plantation on the Ashley River, and built a brick mansion near his father's house. In his own right, he acquired large tracts of land in Prince William's Parish, where his Sheldon plantation was a prosperous agricultural enterprise.
William Bull died at Sheldon on March 21, 1755. His son, William Bull II, became acting governor of South Carolina in 1760.
Bull, Henry DeSaussure. "Ashley Hall Plantation." South Carolina Historical Magazine. Vol. 53 (1952).
McCrady, Edward. The History of South Carolina Under the Proprietary Government, 1670-1719. New York, 1897. http://books.google.com
Moore, Alexander. "Bull, William." Walter Edgar, ed. South Carolina Encyclopedia. University of South Carolina Press, 2006.
Salley, A. S. "The Bull Family of South Carolina." South Carolina Historical and Genealogical Magazine. Vol. 1 (1900).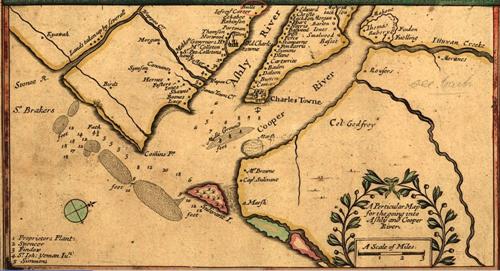 Joel Gascoyne, "A new map of the country of Carolina." Ca. 1682. American Memory, Library of Congress http://memory.loc.gov/
Stephen Bull settled Ashley Hall plantation about 1671, and received a grant for 400 acres in 1676. His son William Bull enlarged the tract significantly in 1707.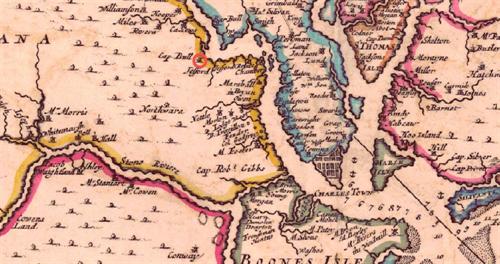 Nicolas Sanson, "Carte Particuliere de la Caroline." Amsterdam, Pierre Mortier, 1696. From the collections of the Birmingham Public Library http://alabamamaps.ua.edu
Ashley Hall, 1696.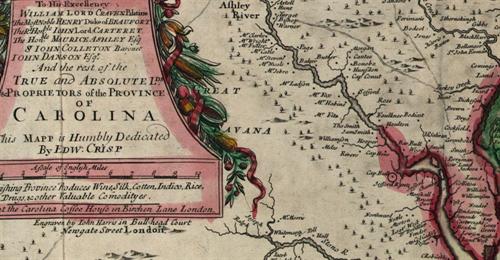 Edward Crisp, "A Compleat Description of the Province of Carolina in 3 parts." 1711. American Memory, Library of Congress http://memory.loc.gov/
Ashley Hall, 1711.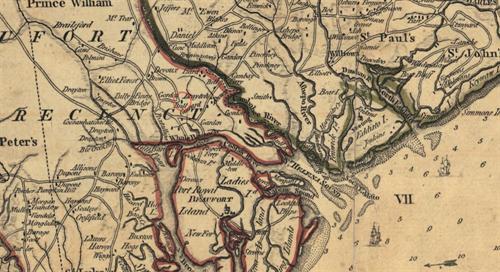 Henry Mouzon, "An accurate map of North and South Carolina … from actual surveys by Henry Mouzon and others." London, 1775. American Memory, Library of Congress http://memory.loc.gov/
Sheldon Plantation, 1775.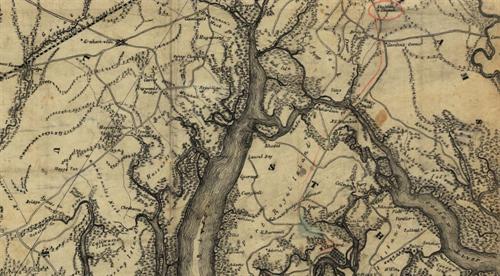 Mills Atlas, Charleston District, 1825. American Memory, Library of Congress http://memory.loc.gov/
Sheldon Church, 1825.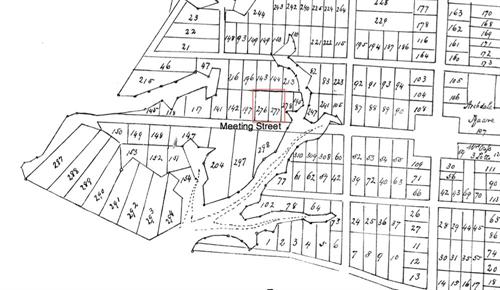 Henry A. M. Smith, "A Platt of Charles Town." South Carolina Historical Magazine, 1908 (copy in City Engineer's Plat Book, S. C. History Room, Charleston County Public Library)
Town lots 276 and 277, granted to Stephen Bull in 1674. In 1746, William Bull gave the rear section of the combined parcel to his son-in-law John Drayton, who built today's 2 Ladson Street.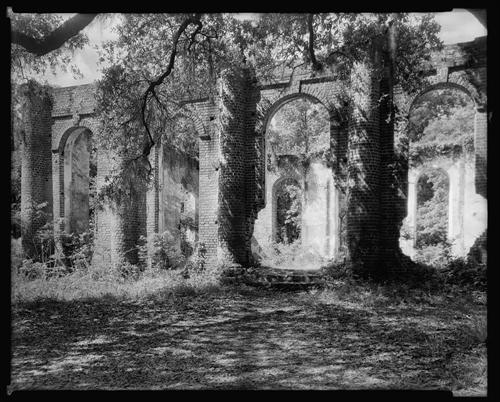 Prints and Photographs Division, Library of Congress
Prince William's Parish Church (Sheldon Church) ruins, 1938. William Bull was buried beneath the church, which "he was the principal instrument in building and which is esteemed the most elegant and compleatest Country Church in America." The church was burned in 1779, rebuilt, and burned again in 1865.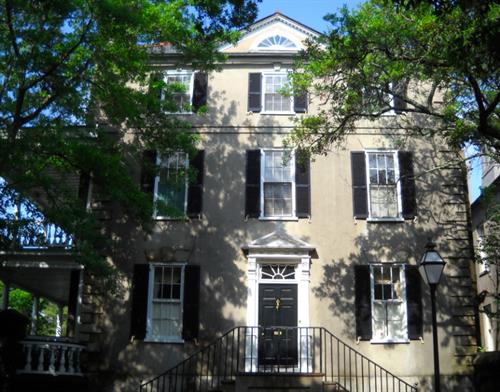 Preservation Society of Charleston
35 Meeting Street, home of William Bull, was built ca. 1720, and enlarged in 1896 by Henry H. Ficken.