JAMES ADGER SMYTH
Elected mayor December 10, 1895, succeeding John F. Ficken. Re-elected December 12, 1899. Succeeded by R. Goodwyn Rhett, December 1903.
Born 1837, died April 25, 1920, buried in Second Presbyterian churchyard.
Son of Thomas Smyth and Margaret Milligan Adger, married Ann Ransom Briggs 1858; married Ella Calvert Campbell 1903.
Member of Second Presbyterian Church
Graduate (1858) of College of Charleston.
Confederate Army, April 1862 to 1865, Company A, 25th South Carolina Infantry Regiment.
Factor/merchant with Adger and Smyth. Planted cotton at his wife's Cedar Grove Plantation, Sumter District.
Alderman, 1877-1885.
"Ex-Mayor Smyth Has Passed Away." News and Courier, April 26, 1920.
Garlington, J. C. Men of the Time. Sketches of Living Notables. A Biographical Encyclopedia of Contemporaneous South Carolina Leaders. Spartanburg: Garlington Publishing Co., 1902. (http://books.google.com)
Hemphill, J. C. Men of Mark in South Carolina. Ideals of American Life. A Collection of Biographies of Leading Men of the State. Washington DC: Men of Mark Publishing Co., 1908. (http://books.google.com)
Trinkley, Michael, Nicole Southerland, and Sarah Fick. Reconnaissance Cultural Resources Survey of Cantey Bay Plantation, Clarendon County, South Carolina. Chicora Research Contribution 494. Columbia: Chicora Foundation, Inc., 2008.
Zierden, Martha A., et. al. Excavations at 14 Legare Street. Archaeological Contributions 28. Charleston: The Charleston Museum, 2001.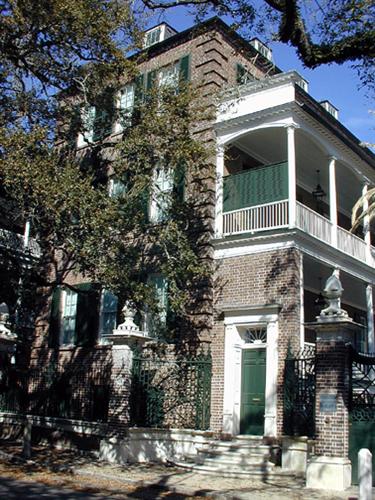 Courtesy Glenn Keyes Architects.
14 Legare Street. J. Adger Smyth bought this house in 1879 from his business partner, Andrew Adger. It remained in the Smyth family until 1930, when his widow sold it to Walter J. Salmon. 14 Legare Street was built ca. 1801 for Francis Simmons, and sold in 1816 to George Edwards, who added the famous Pineapple Gate.
Year Book, City of Charleston 1903. Courtesy of Charleston County Public Library
Mayor J. Adger Smyth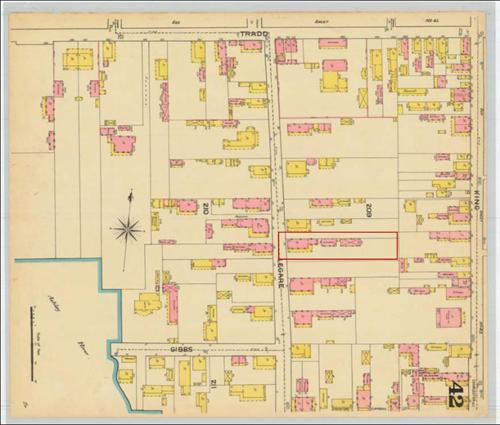 Sanborn Company map, 1888
14 Legare Street, 1888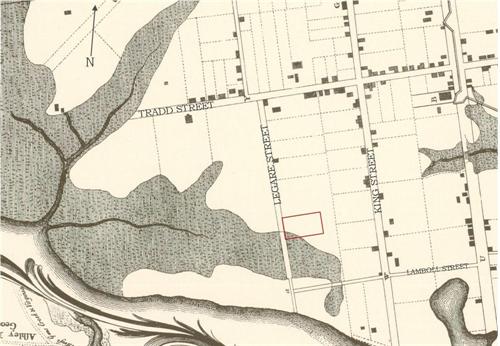 Bishop Roberts and W. H. Toms, The Ichnography of Charles-Town at High Water. London, 1739
General location of 14 Legare Street in 1739.