THOMAS WINSTANLEY
Elected intendant September 10, 1804, succeeding John Drayton. Succeeded by Charles B. Cochran, September 1805.
Born 1755, died November 4, 1832; married Sarah (surname unknown). Member of St. Philip's Episcopal Church, where he is buried.
Attorney, admitted to bar in Charleston, 1785.
Military service as Clerk Corporal in James Bentham's company of militia.
Charleston Courier, September 11, 1804.
O'Neall, John Belton. Biographical Sketches of the Bench and Bar of South Carolina. Vol 2. Charleston, 1859. (http://books.google.com)
"Regimental Book of Captain James Bentham, 1778-1780." South Carolina Historical Magazine. Vol. 53 (1952).
Preservation Society of Charleston
49 Chapel Street, residence of intendant Thomas Winstanley. His Mazyckboro house was built by 1804, on a lot that extended from Charlotte Street to Chapel Street.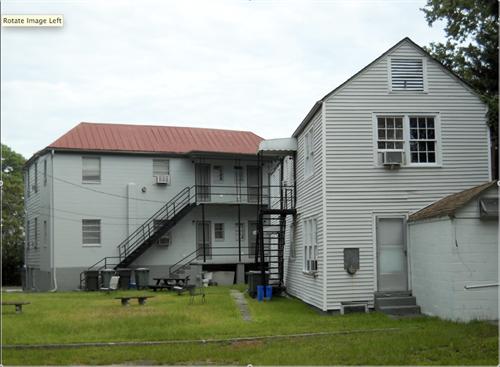 Preservation Society of Charleston
49 Chapel Street, south elevation. After Winstanley's death, in 1834 his property was sold as two parcels, one fronting Chapel Street and one fronting Charlotte Street. The south piazzas were eventually enclosed and the building divided into apartments.
Sanborn Company Map, 1888
49 Chapel Street, 1888.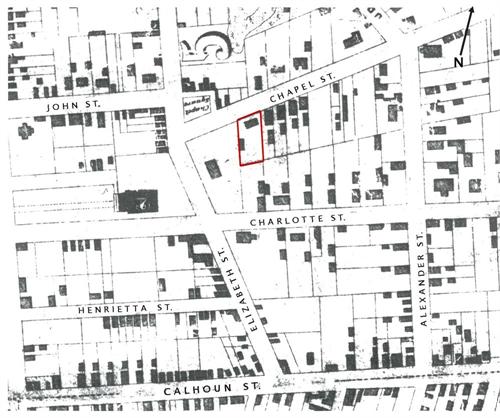 R. P. Bridgens & Robt. Allen, "An Original Map of the City of Charleston," 1852
49 Chapel Street, 1852.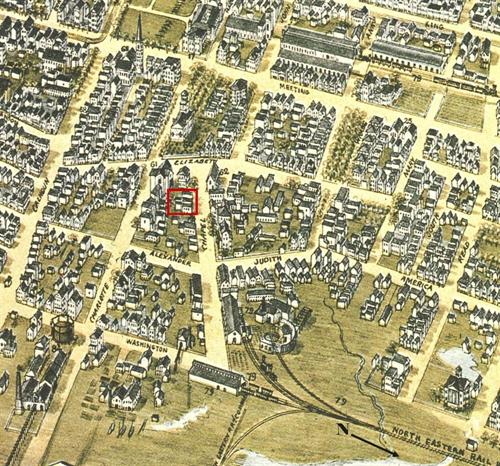 C. Drie, Bird's Eye View of the City of Charleston, South Carolina, 1872 (http://memory.loc.gov/ammem/browse/ListSome.php?category=Maps)
49 Chapel Street and environs, 1872.