Joseph Morton
Governor May 1682 – July 1684
Interim Governor October 1685 – November 1686

Born in England around 1630, Joseph Morton immigrated to Carolina with his family in about 1681. He was a prominent Dissenter at a time when the Lords Proprietors were encouraging settlement by non-Anglicans, and in 1682 the proprietors named Joseph Morton a landgrave and appointed him governor.
Joseph Morton was politically at odds with the Goose Creek Men, who identified themselves with the Anglican Church. Their opposition to reforms favorable to Dissenters forced the Commons House of Assembly into stalemate. The Lords Proprietors replaced governor Morton with Sir Richard Kyrle, who arrived in Charleston in July 1684. [Kyrle died a few weeks later, and former governor Joseph West became interim governor.] In October 1685, the proprietors again selected Joseph Morton to serve as interim governor, replacing Robert Quary.
In the summer of 1686, Spanish forces in three galleys destroyed Stuart's Town (near today's Beaufort), then headed north for Charleston. They detoured up the North Edisto River to sack Governor Joseph Morton's plantation, killing his brother-in-law. The invaders' ships were scattered by a hurricane before they reached the Ashley River, but the close call drove Joseph Morton into alliance with the Goose Creek Men to plan a retaliatory attack on Saint Augustine. The adventure had nearly begun when new governor James Colleton arrived in November 1686, declared martial law, and prevented the vengeace raid.
Joseph Morton died in early 1688. His son Joseph Morton, Jr., inherited his landgrave's patent and became politically influential in his own right.

Roper, L. H. "Morton, Joseph, Sr." Walter Edgar, ed. South Carolina Encyclopedia. University of South Carolina Press, 2006.
Salley, A. S., Jr. "Governor Joseph Morton and Some of His Descendants." South Carolina Historical and Genealogical Magazine. Vol. 5. (1904).

Photos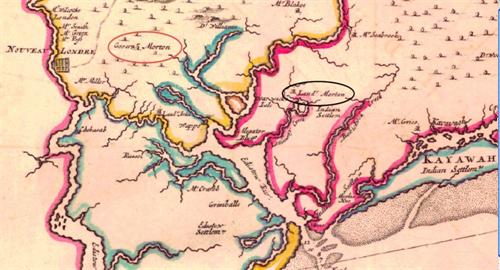 Nicolas Sanson, "Carte Particuliere de la Caroline." Amsterdam, Pierre Mortier, 1696. From the collections of the Birmingham Public Library http://alabamamaps.ua.edu