Robert Gibbes
Interim Governor June 1710 – March 1712
Born in England in 1644, Robert Gibbes emigrated to Barbados as a young man. He and his brother Thomas Gibbes attempted a failed settlement at Cape Fear (North Carolina) for the Lords Proprietors before 1670, then he began to accumulate land in South Carolina. He moved back and forth between Barbados and South Carolina – both his marriages, to Jane Davis in 1678, and to Mary Davis in 1688 – took place in Barbados.  
Robert Gibbes began his political career in 1684 as sheriff of Carolina. Afterward, he served in the assembly, he became a proprietary deputy and member of the Grand Council in 1698, and he was appointed chief justice in 1698.
When governor Edward Tynte died in June 1710, his directed the three proprietary deputies to choose one of their number as interim governor. Robert Gibbes won the selection over Thomas Broughton by bribing the third deputy; although he was exposed, he was allowed to serve. His term in office ended when new governor Charles Craven arrived in March 1712. Robert Gibbes died in South Carolina on June 24, 1715.
Bates, Susan Baldwin, and Harriott Cheves Leland, eds. Proprietary Records of South Carolina. Volume One: Abstracts of the Records of the Secretary of The Province, 1675-1695. Charleston: History Press, 2005.
Lesser, Charles H. "Gibbes, Robert." Walter Edgar, ed. South Carolina Encyclopedia. University of South Carolina Press, 2006.
Photos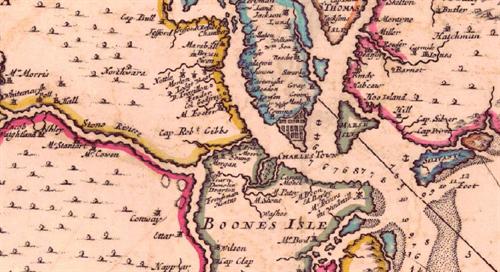 Nicolas Sanson, "Carte Particuliere de la Caroline." Amsterdam, Pierre Mortier, 1696. From the collections of the Birmingham Public Library http://alabamamaps.ua.edu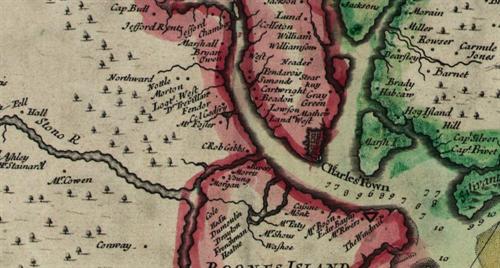 Edward Crisp, "A Compleat Description of the Province of Carolina in 3 parts." 1711. American Memory, Library of Congress http://memory.loc.gov/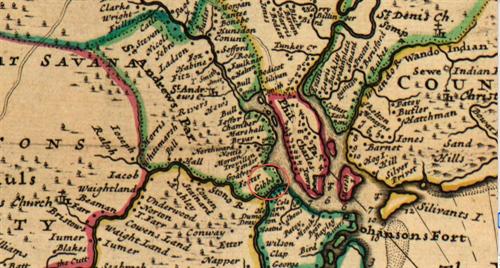 Herman Moll, "A new and exact map of the dominions of the King of Great Britain on ye continent of North America, containing Newfoundland … Carolina." 1715. American Memory, Library of Congress http://memory.loc.gov/