James Glen
Governor December 1743 – June 1756
James Glen was born in Scotland in 1701. After studying law at the University of Leiden (the Netherlands), he became a government official in Scotland. In 1738, Glen was named royal governor of South Carolina.
William Bull, the lieutenant governor, who had been acting governor since November 1737, was finally able to step down when governor James Glen arrived in December 1743.
The British government replaced James Glen with William Henry Lyttelton in 1756, but he and his wife remained in South Carolina until 1761. James Glen died in Scotland in 1777.
Glen, James. A Description of South Carolina; Containing Many Curious and Interesting Particulars Relating to the Civil, Natural and Commercial History of that Colony. London: printed for R. and J. Dodsley, 1761.
Ravenel, Mrs. St. Julien (Harriott Horry Rutledge). Charleston. The Place and the People. New York, 1912; rep. ed. Southern Historical Press, 1972.
Robinson, W. Stitt. "Glen, James." Walter Edgar, ed. South Carolina Encyclopedia. University of South Carolina Press, 2006.
Smith, Henry A. M. "Charleston and Charleston Neck. The Original Grantees and the Settlements along the Ashley and Cooper Rivers." South Carolina Historical and Genealogical Magazine. Vol. 17. (1918).
Waddell, Gene. "Charles Pinckney's Double House." Charleston Architecture, 1670-1860. Charleston: Wyrick & Company, 2003.
Photos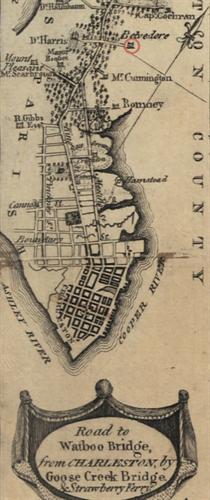 Road to Watboo Bridge, from Charleston, by Goose Creek Bridge & Strawberry Ferry. 1787. American Memory, Library of Congress http://memory.loc.gov/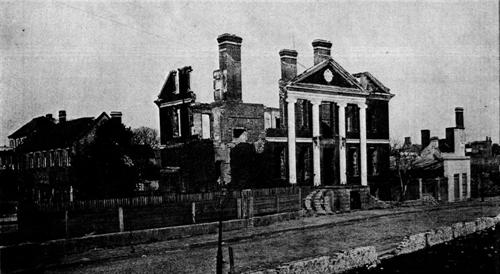 U.S. National Archives and Records Administration http://arcweb.archives.gov/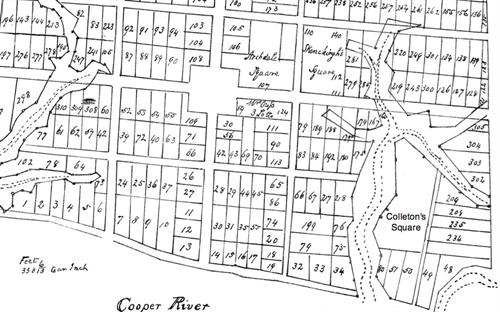 Henry A. M. Smith, "A Platt of Charles Town." South Carolina Historical Magazine, 1908 (copy in City Engineer's Plat Book, S. C. History Room, Charleston County Public Library)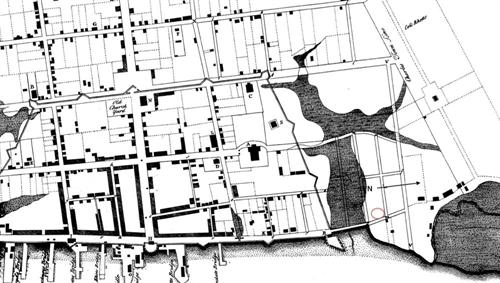 Bishop Roberts and W. H. Toms, The Ichnography of Charles-Town at High Water. London, 1739.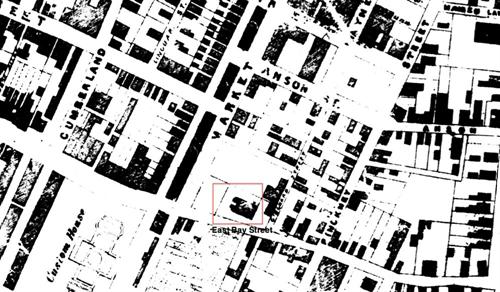 R. P. Bridgens & Robt. Allen, "An Original Map of the City of Charleston." 1852 (S. C. History Room, Charleston County Public Library)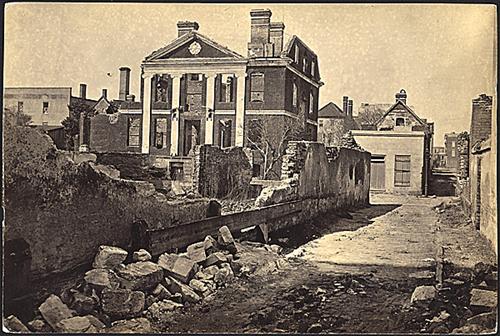 U.S. National Archives and Records Administration http://arcweb.archives.gov/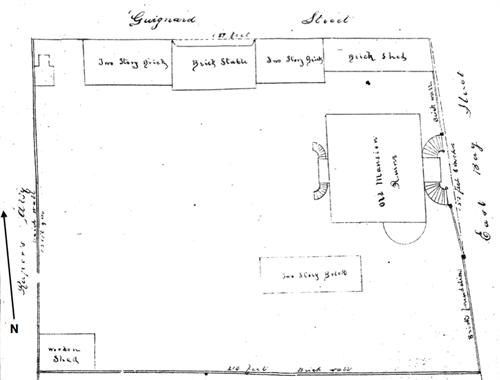 City Engineer's Plat Book, page 2 (S. C. History Room, Charleston County Public Library)