James Colleton
Governor November 1686 –  March 1690
James Colleton was born in England, a son of Sir John Colleton, one of South Carolina's eight original Lords Proprietors. After his father's death in 1666, James Colleton went out to Barbados. His elder brother became Sir Peter Colleton and inherited their father's proprietorship; by James Colleton received a landgrave's patent. On August 31, 1686, the proprietors appointed him governor of Carolina.
When James Colleton arrived in Charles Towne November 1686, he found interim governor Joseph Morton preparing an attack against St. Augustine (retaliation for the Spanish raids on Stuart's Town and Edisto). The new governor's objections were ignored, and he only stopped the march by declaring martial law.
Months later, in February 1689, governor James Colleton convened the assembly for the first time. Caught up in the machinations of the more sophisticated Goose Creek Men, he was forced to dissolve the assembly. James Colleton's legislative failures left South Carolina without a military establishment at a time when France and England were at war. Fearing a French attack on the unprotected colony, governor Colleton declared martial law again in early 1690. He was then outmaneuvered completely.
North Carolina's governor Seth Sothel had been suspended from office in December 1689, but he was still a proprietor of Carolina. He came to Charles Towne and claimed the governorship as resident proprietor. When James Colleton's adversaries, the Goose Creek Men, embraced Sothel, Colleton was removed from office and banished from the colony. He returned to Barbados, where he died in about 1706.
In 1683, Landgrave James Colleton received a grant for Wadboo Barony, 12,000 acres adjoining his family's Fairlawn Barony. His son, Landgrave John Colleton, inherited Wadboo Barony, but neither he nor his heirs seem to have come to South Carolina themselves. The land was divided and sold under the Confiscation Act of 1782. Although the Colletons eventually claimed some of the proceeds, they did not regain the land.
Roper, L. H. "Colleton, James." Walter Edgar, ed. South Carolina Encyclopedia. University of South Carolina Press, 2006.
McCrady, Edward. The History of South Carolina Under the Proprietary Government, 1670-1719. New York, 1897. http://books.google.com
Smith, Henry A. M. "Wadboo Barony" in "The Baronies of South Carolina." South Carolina Historical and Genealogical Magazine. Vol. 12 (1911).
Photos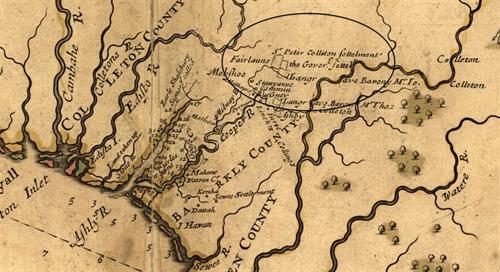 Joel Gascoyne, "A new map of the country of Carolina." Ca. 1682. American Memory, Library of Congress http://memory.loc.gov/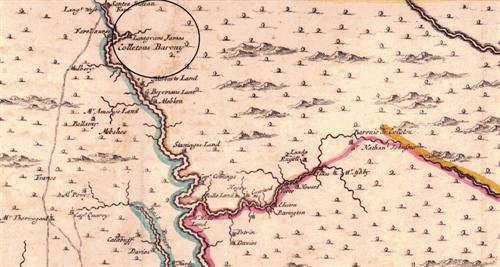 Nicolas Sanson, "Carte Particuliere de la Caroline." Amsterdam, Pierre Mortier, 1696. From the collections of the Birmingham Public Library http://alabamamaps.ua.edu
James Colleton's Wadboo Barony was above Fairlawn Barony on the West Branch of the Cooper River. It is not known if Colleton built a dwelling at Wadboo; he reportedly "built himself a fine mansion at old Charles Town" (Albemarle Point) while he was governor.