Joseph Blake
Governor November 1694 – August 1695
Deputy Governor October 1696 – September 1700
Joseph Blake was born in England in 1663, and arrived in Carolina during the early 1680s. A Dissenter, he married Deborah Morton, daughter of governor Joseph Morton, and became involved in politics. He was named a proprietor's deputy and member of the Grand Council, but when Seth Sothel took the governorship, he forced Blake off the council. (Blake returned to the Grand Council when Philip Ludwell became governor.)
Upon the death of governor Thomas Smith (from whom he inherited a landgrave's patent), Joseph Blake assumed the governor's office. His term was short: in August 1695, John Archdale arrived in Charleston as the Lords Proprietors' commissioned governor. When Archdale returned to England in 1696, he appointed Blake his deputy governor. Blake held office until his death on September 7, 1700.
With governor John Archdale still in England, the death of deputy governor Joseph Blake plunged the Grand Council into a power struggle. Dissenters supported Joseph Morton, Jr., son of the former governor, who was the senior landgrave in the colony; the opposing Anglicans disqualified Morton because he already held a royal office as judge of admiralty. Instead, James Moore, Sr., an Anglican, succeeded Blake as deputy governor.
Moore, Alexander. "Blake, Joseph." Walter Edgar, ed. South Carolina Encyclopedia. University of South Carolina Press, 2006.
"Towles Farmstead; Goshen Plantation; Plainsfield." National Register Nomination, S. C. Department of Archives and History, 1993. http://www.nationalregister.sc.gov/charleston
Photos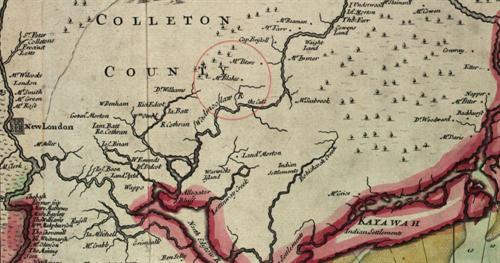 Edward Crisp, "A Compleat Description of the Province of Carolina in 3 parts." 1711. American Memory, Library of Congress http://memory.loc.gov/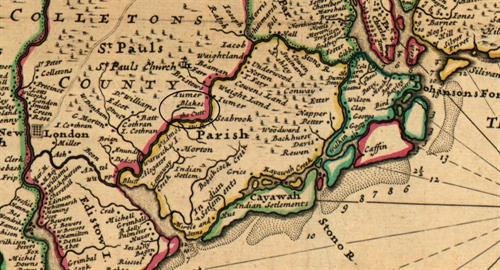 Herman Moll, "A new and exact map of the dominions of the King of Great Britain on ye continent of North America, containing Newfoundland, … Carolina." 1715. American Memory, Library of Congress http://memory.loc.gov/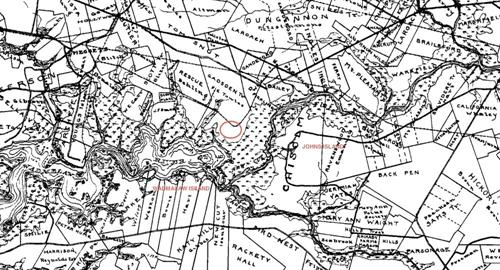 J. T. Kollock, Inc. Property Map of Charleston County, S. C. Compiled 1932-1933-1934. Charleston, 1934. Copy in S. C. History Room, Charleston County Public Library