JOHN FAUCHERAUD GRIMKE
Elected intendant September 11, 1786, succeeding Arnoldus Vanderhorst. Re-elected September 10, 1787, and September 7, 1788; resigned September 15, 1788. Succeeded by Rawlins Lowndes, September 1788.
Born 1752, died August 9, 1819, in New Jersey.
Son of John Paul Grimké and Mary Faucheraud, married Mary Smith 1784.
Graduate (1774) of Trinity College, Cambridge.
Attorney, admitted to bar in 1783. Owned Washington Plantation (Cooper River) in St. John's, Berkeley, Parish.
1776 entered the Regiment of Artillery, rose to lieutenant colonel, service at the Battle of Stono (June 1779), the siege of Savannah (autumn 1779); present at the fall of Charleston in May 1780, he was released by the British but imprisoned March, 1781, for violating his parole. When released, he joined General Nathanael Green's army.
Associate justice of South Carolina's Court of Common Pleas and General Sessions from 1783 to his death. Represented St. Philip's and St. Michael's parishes in State House during eight General Assemblies, 1782-1790.
Bailey, N. Louise. Biographical Directory of the South Carolina House of Representatives. Vol. 3, 1775-1790. Columbia: University of South Carolina Press, 1981.
Charleston City Gazette, September 17, September 30, October 2, 1788.  
Charleston Evening Gazette, September 11, 1786.
"Order Book of John Faucheraud Grimké, August 1778-May 1780." South Carolina Historical Magazine 13-19 (1912-1920).
Poliakoff, Eli A. "Grimké, John Faucheraud." Walter Edgar, ed. The South Carolina Encyclopedia. Columbia: University of South Carolina Press, 2006.
South-Carolina State Gazette,  September 11, September 18, 1788.
State Gazette of South-Carolina, September 10, 1787.
Photos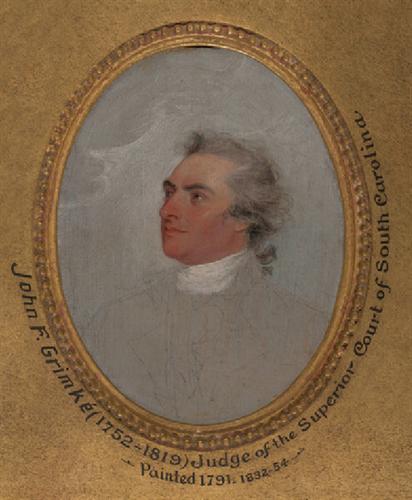 Yale University Art Gallery www.artgallery.yale.edu