Seth Sothel
Governor March 1690 – April 1692
In 1675, Seth Sothel, "a person of considerable estate" in England, purchased a proprietorship in Carolina and arranged with Anthony Ashley Cooper to become governor of northern Carolina. He reached North Carolina in 1682.
Sothel's administration was successful for several years, but in 1689, he was brought to trial for misusing public funds. The assembly banished him, and in December 1689, the proprietors suspended Sothel from office and commissioned Phillip Ludwell governor of North Carolina.
Upon his forced departure from North Carolina, Seth Sothel traveled to Charleston and joined the ongoing political battle. Governor James Colleton had fought the Commons House of Assembly to a stalemate, then declared martial law. Colleton's rivals greeted Sothel as a solution to the impasse, and upheld his claim, based on his position as a proprietor, to the governorship. Sothel himself was quickly incapacitated by dissension among the colonists, and between the colonists and Lords Proprietors.
The proprietors commissioned Philip Ludwell, who had replaced Seth Sothel as governor in North Carolina, to be governor of all Carolina. Ludwell appeared in Charleston in the spring of 1692, and Sothel refused to acknowledge his commission as governor.
Seth Sothel was eventually pushed aside, but he remained in the colony throughout Ludwell's tenure. He finally returned to North Carolina, where he died in 1694.
Daniels, Dennis F. "Seth Sothel." NCpedia. http://ncpedia.org/biography/
Towles, Louis P. "Sothel, Seth." Walter Edgar, ed. South Carolina Encyclopedia. University of South Carolina Press, 2006.
Photos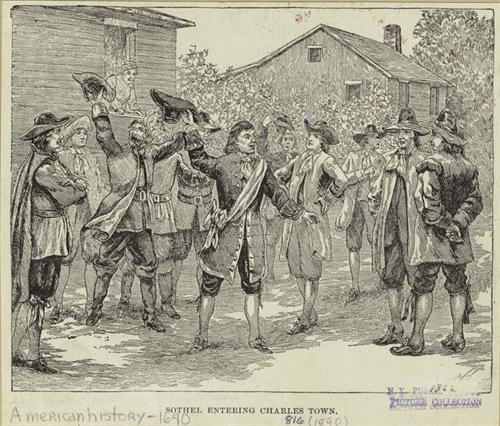 Courtesy of The New York Public Library www.nypl.org