29A. Bowling Green
In the early 1700s, there was a public house/tavern named "Bowling Green" at the east side of today's King Street, which as the Broad Path or High Road was the main road into Charles Towne. Near the tavern was a bowling green, a mowed pitch for playing the English game of "lawn bowls," which is similar to Italian bocce. There are early references to the tavern, but information about the bowling green is elusive.
Colonial South Carolina's first organized horse race was run in 1734, on a one-mile track staked out opposite the Bowling Green. No map shows the location of the racecourse, but in 1857, racing historian John Beaufain Irving wrote that it was "in the vicinity of the spot which the lower depot of the South Carolina Railroad now occupies," placing the course north of today's Calhoun Street. The 1734 event seems to have been the only race held there; beginning in 1735, the York Course was Charleston's principal racetrack.
An advertisement in the South Carolina Gazette in November, 1740, is ambiguous as to whether "Bowling Green" referred to the lawn or the tavern: "To be let at Christmas next, the house near Mrs. Trott's pasture, where the Bowling Green was formerly kept, with a convenient pasture adjoining."
The bowling green was part of a sixty-four acre parcel that Isaac Mazyck and his wife Maria sold to Thomas Gadsden in 1720, and which Gadsden sold to Captain George Anson, commander of His Majesty's ship Scarborough, in 1726 (Anson paid £300 sterling). Twenty years later, in 1746 Anson developed a suburban neighborhood on the tract "known as Bowling Green." Surveyor General George Hunter laid out building lots along new streets that extended the regular grid planned in the Grand Modell of 1680, and farmland and pastures were replaced by town houses.
George Anson's subdivision is known as Charleston's first suburb. Adjacent tracts were developed as Middlesex (1760s), Rhettsbury (1773), and Laurens Square (1804). All these subdivisions are in today's Ansonborough neighborhood, which was generally rebuilt after the great fire of 1838.

Irving, John Beaufain. The South Carolina Jockey Club. Charleston, 1857. http://books.google.com
Smith, Alice R. Huger, and D. E. Huger Smith. The Dwelling Houses of Charleston. J. B. Lippincott Co., 1917. http://books.google.com
South-Carolina Gazette, November 13-November 20, 1740.
Stockton, Robert P. "The Anson of Ansonborough, The Lord of the Suburb." Preservation Progress Vol. 55, No. 3 (Preservation Society of Charleston, September 2010).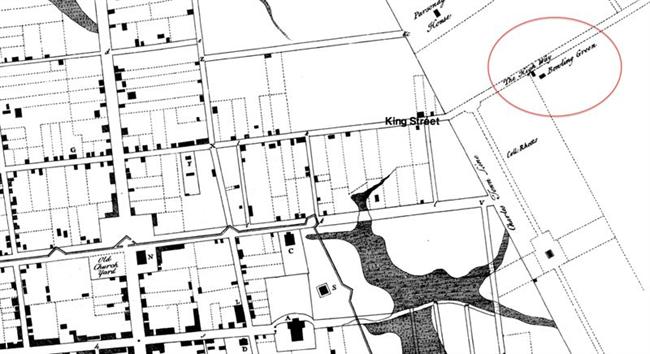 Bishop Roberts and W. H. Toms, The Ichnography of Charles-Town at High Water. London, 1739.
The Bowling Green House, 1739.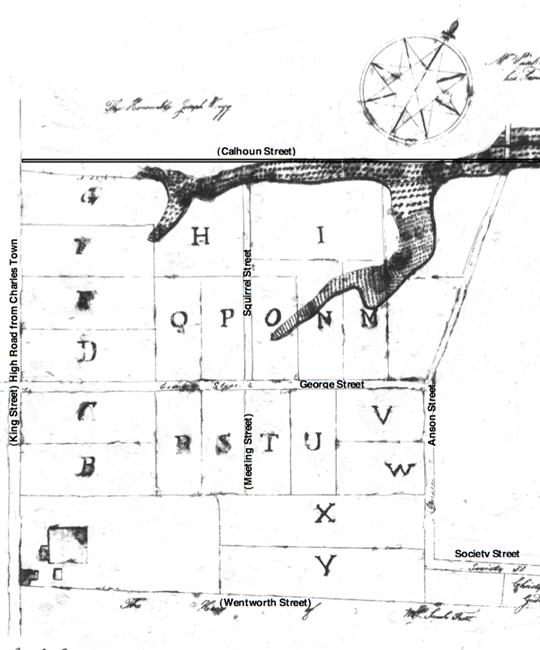 City of Charleston Plat Book, page 70 (microfilm, S.C. History Room, Charleston County Public Library)
George Hunter's 1746 plat showing the plantation "formerly known by the name of the Bowling Green belonging to the Honourable George Anson, Esq."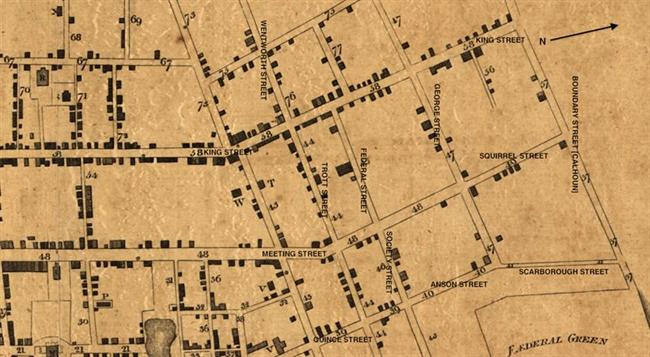 Edmund Petrie, Ichnography of Charleston, South Carolina. London, Phoenix Fire Company, 1788. American Memory, Library of Congress http://memory.loc.gov/
Ansonborough was developed between King, Boundary [Calhoun], Scarborough/Anson/Quince streets, and an east-west line dividing the block between Federal/Society and Trott [Wentworth] streets.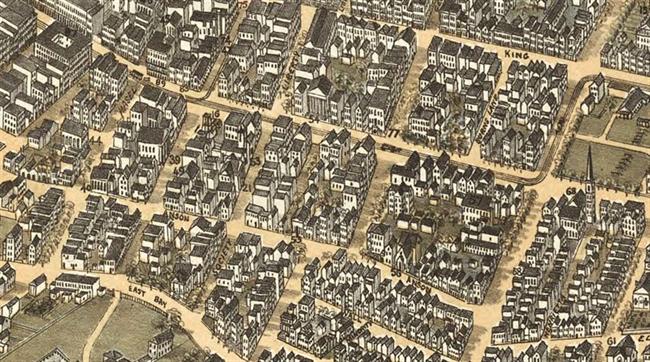 C. Drie. Bird's Eye View of the City of Charleston, South Carolina. 1872. American Memory, Library of Congress http://memory.loc.gov/
Ansonborough area, 1872.