James Moore (Sr.)
Deputy Governor September 1700 – March 1703
Born around 1650, James Moore had left Barbados for South Carolina by early 1675. He became a prosperous Indian trader and allied himself politically with the Goose Creek Men. Moore's wife was Lady Margaret Berringer, a stepdaughter of governor John Yeamans; it is not certain whether they married in Barbados or South Carolina.
By 1677, James Moore was a member of the Grand Council, among the most powerful players in the colony's turbulent political scene. He and his Goose Creek allies backed Seth Sothel's claim to the governorship, and forced James Colleton from office in 1690. A decade later, another succession crisis opened the governorship to Moore himself.
When deputy governor Joseph Blake died in 1700, James Moore and his allies blocked the attempt of Joseph Morton, Jr., the senior landgrave in the province, to succeed to the position. Instead, the Grand Council chose Moore to act as deputy governor.
Deputy governor James Moore began a series of assaults on Spanish settlements and missions in Florida, leading raids from 1702 until 1704. In March 1703, when Sir Nathaniel Johnson became governor, Moore returned to the Grand Council. He died in Charleston in 1706, a victim of yellow fever. His son James Moore, Jr., inherited his Boochawee Plantation, and became South Carolina's provisional governor after the Lords Proprietors were overthrown in 1719.
Not long before assuming the governor's office, James Moore rented a residence near Charles Town. He selected the mansion house built for Jonathan Amory and his wife Martha, both of whom had died in the autumn of 1699. Paying a rent of £29 per year, Moore used the Amory house as long as he was governor. His successor in office, Nathaniel Johnson, also lived there briefly.
Heitzler, Michael J. Goose Creek, A Definitive Histor
Photos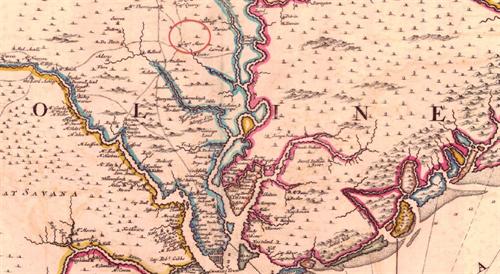 Nicolas Sanson, "Carte Particuliere de la Caroline." Amsterdam, Pierre Mortier, 1696. From the collections of the Birmingham Public Library http://alabamamaps.ua.edu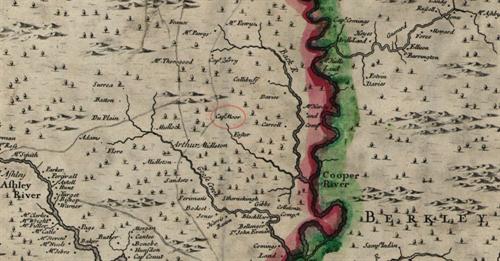 Edward Crisp, "A Compleat Description of the Province of Carolina in 3 parts." 1711. American Memory, Library of Congress http://memory.loc.gov/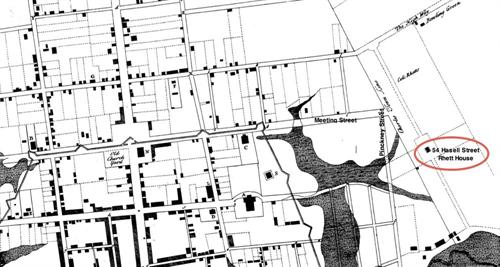 Bishop Roberts and W. H. Toms, The Ichnography of Charles-Town at High Water. London, 1739.